Interdenominational Ministerial Alliance"Ready, Set, Go! Back to School" Event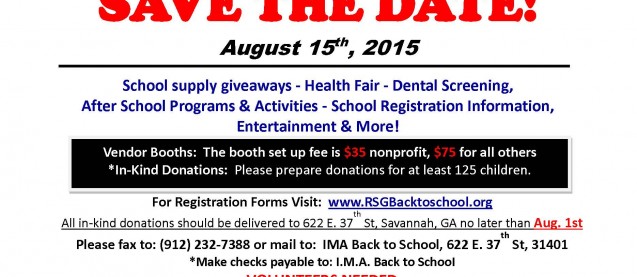 Chatham Area Transit Authority (CAT) is pleased to announce partnering with the Interdenominational Ministerial Alliance and other sponsors again this year to promote the seventh annual "Ready! Set! Go! Back to School" initiative. The free event–scheduled for Saturday, August 15th–provides parents and their children with school supplies, information on health, nutrition and after-school programs, and entertainment to kick off the new school year.
CAT is collecting supplies through the end of July at the Joe Murray Rivers, Jr. Intermodal Transit Center (610 W. Oglethorpe Avenue) and at CAT Central (900 E. Gwinnett Street). The top 5 supplies needed are composition books, highlighters, index cards, erasers, and notebook paper. Your generously donations will assist more than 5,000 children and their families as they prepare for the upcoming school year.
Important Dates:
Thursday, August 6, 2015 – SCCPSS 2015-2016 school year begins
Saturday, August 15, 2015 – Free Ready! Set! Go! Back to School event at the Savannah Civic Center